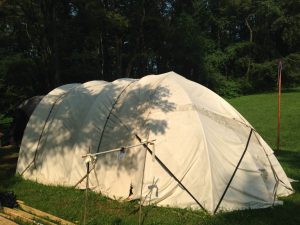 Editor's Note: This writeup was originally posted to LiveJournal in 2014, and then migrated here when I set up this site. I've since added a few more notes and pictures.
Building A Bender for Pennsic: A DIY Tent Using a Timeless Design
This summer we built a simple but spacious tent for use at Pennsic, an SCA medieval camping event held annually in late July near Pittsburgh.
Below I outline the historical and contemporary sources we used for the tent design, detail the materials we used, and describe the construction process we followed, with photographs of the finished result.
Objectives
Our tent design choice followed from several criteria:
We wanted something we could build ourselves with only a few days of preparation, put up for two weeks at Pennsic, then store for 50 weeks of each year before being set up again.
We wanted something distinctive, not one of the pavilions and wall tents that are pervasive at Pennsic.
We wanted it to suggest a family of villagers camping at the annual fair, not a noble household or a military encampment.
It should be reasonably period in appearance, meaning that we would use modern tools and materials, but hoped to not stray too far from the forms that might plausibly have been found in a Welsh village a thousand years ago.
We needed a large space for use by two people for two weeks, to serve both as our bedroom/dressing room and also as a sitting room on rainy days, with lots of headroom so that we could both walk around inside comfortably without ducking down.
We settled on a "bender" design, using poles bent into an arch and half-dome, with canvas draped over them.
Although not common at SCA events, this type of tent has both an ancient history and a modern DIY tradition, outlined below.
References
I looked at hundreds of different tent designs in the course of coming up with this plan.
Historical Precedents
Arched and domed tents were used by the early Celts of the British Isles and by medieval Europeans.
Celts
Bender tents are part of traditional Celtic culture.
"Benders are probably the simplest form of shelter and these have been a traditional form of Celtic abode for many centuries." — Celtic Heritage Trust
The recipe for their construction is straightforward:
To build the frame you will need to find some coppice wood that is about 2 inches in diameter at the base. The best wood to use is hazel but willow, ash or even sycamore will do. The number you require depends on the size of your structure, fifteen should do it. …

… there are many ways you can arrange the poles to make a complete frame on which to put your canvas. They can be placed so they all meet in the middle like a star pattern … This is best if constructing a round bender. Or you can go for a 'rib cage' type design taking the side poles over the main length pole at evenly spaced intervals. More suitable for an oblong design. …

Keep adding poles wherever looks necessary until happy that it's plenty sturdy enough and is a good dome shape with no gaps big enough that water will collect in the canvas. You should be able to hold on and hang your full weight from the center of a good bender frame.

All that's left to do now is to drag your tarpaulin over the frame and secure it at the edges." — Steward Community Woodland
Here are a few benders built using these techniques.

However, it is seemingly impossible to find these types of shelters displayed in period illustrations, both because they were unexceptional and because they were not used by the elite members of society.
Early Welsh literature is silent on the typical styles of tents used in Wales during the medieval period.
"As far as I am aware, there are no physical artifacts or even period artistic representations that could shed light on the subject of Welsh tents. … What we don't know, from this information, is what shape the tents would take. How would they be supported? Would special fabric be used or would they be made of fabric designed for other purposes? Would poles by cut on site or carried along? Or would living trees be bent and tied and covered in some fashion? At this point, the construction of native Welsh tents can be nothing but speculation. " — Some Data on the Use and Nature of Tents in Medieval Wales
A description of a Scottish military camp does survive from the 1500s, in which most tents are small one-person benders of canvas draped over two arches made of joined poles.
"I do not exactly know the Scottish mode of encampment in 1513, but Patten gives a curious description of that which he saw after the battle of Pinkey, in 1547: — 'Here now, to say somewhat of the manner of their camp. As they had no pavilions, or round houses, of any commendable compass, so wear there few other tentes with posts, as the used manner of making is; and of these few also, none of above twenty foot length, but most far under… These white ridges … we found it a linen drapery, of the coarser cambryk in dede, for it was all of canvas sheets, and wear the tenticles, or rather cabyns and couches of their soldiers; the which (much after the common building of their country beside) had they framed of four sticks, about an ell long a piece, whereof two fastened together at one end aloft, and the other two ends beneath stuck in the ground, an ell asunder, standing in fashion like the bowes of a sowes yoke; over two such bowes (one, as it were, at their head, the other at their feet) they stretched a sheet down on both sides, whereby their cabin became roofed like a ridge, but skant shut at both ends, and not very close beneath on the sides, unless their sticks were the shorter, or their wives the more liberal to lend them larger napery; howbeit, when they had lined the, and stuff'd them so thick with straw, with the weather as it was not very cold, when they wear ones couched, they were as warm as they had been wrapt in horses dung." — Patten's Account of Somerset's Expedition, 1547; quoted in the Appendix to Marmion, 1855, Page 169, Note 3F, by  J. W. Lake; in turn quoted in Ancient and Modern Britons: A Retrospect, Volume 1, 1884, page 169.
Medieval Europe
Medieval European merchants used arched tents as temporary shelters at fairs.
Coryn Weigle, who makes tents for Medieval Miscellany … cites a letter written by a merchant guild to a town. The guild was no longer going to patronize the town's fairs, the letter said, because there was getting to be a scarcity of available saplings in the area and the merchants weren't happy about bring in their own.

… These booths were essentially semi-cylindrical structures, like a cloth Quonset hut, with the display area on one end and probably a private entrance in the back. The saplings were undoubtedly used to form the ribs of the structure." — Dragonwing Tents
These tents do appear in at least one period illustration:

Detail from "La foire du Lendit", French, 14th century, in "the Pontifical de Sens" (Paris, BnF, département des Manuscrits, Latin 962, fol. 264)
These tents also appear in a few more recent images of medieval fairs:

Detail from another image of La foire du Lendit

Detail from A medieval market
Roma
The Roma of the British Isles continued to used benders into the twentieth century.
The classic Roma bender is an arched tunnel with a closed end and a purpose-made ridgepole with drilled holes.
To make a bender tent, cut a dozen lengths of supple tree branches about ten feet long. The ends of ten of the branches are stuck into the ground in two rows of five, at two-foot intervals…

For the ridge pole, take a length of 2×4, about eight feet in length, and drill four sets of double holes at intervals along its length …

The tops of the side poles are then pushed into the ridge pole. The other two long poles are placed at one end (what will be the closed end of the bender) and bent over and lodged through the first two side poles.

This is your basic framework. Now throw tarps or even old blankets over this framework to cover it. To join the blankets, and to fasten them to the end poles, slits are cut in them and pieces of wood pushed through…. " — Instructions for making a bender tent
These are well documented in photographs:

Numerous variations were possible:
Often a foretent called a balk was created at the front to protect the fire or charcoal brazier, essential both for cooking and warmth. Sometimes two benders were set facing each other and were joined by a balk in the middle with a vent hole for smoke above. Usually the tents were about 5′ high but the largest might be 20′ long, 12′ wide, and 10′ high." — Bender Tents, Romany Wales Project
Here are some designs with balks; some of these benders seem to lack the ridgepole:
Global Variations
Many varieties of arched and domed tents are used around the world.
Central Asia
Arched tents were also used by nomads in Central Asia, including Iran and Afghanistan.
… the tunnel tent, appears from its wide distribution to be the oldest in the region … it has a frame that stands independently of its covering, consisting of a series of bentwood arches (benders) standing parallel to one another, and sometimes traversed by a second system of arches running at right angles to the first.." — Tents. Variety, Construction, and Use, Encylopedia Iranica
Modern versions are still in use in Iran:
From A Journey Through Iran
There's also a circular domed version that's still in use in Iran called an "alachigh" where the poles are all brought to the center and inserted into a central ring like the ones used in a ger or yurt.

From Ernak Horde
South Asia
This same semi-cylindrical arch style also shows up in a number of permanent non-tent dwellings, such as the traditional "Arsh" houses of the Toda people of South Asia, which use stone end walls, bamboo beams and rattan bent to form the side walls, which are then thatched with grass.
From The Toda: India
Africa
Domed tents made of bent wood are also widespread in Africa, such as the Somali Aqal.

From Construction of Aqal Somali
North America
Similar structures were found in numerous native North American cultures, including long houses, wigwams and wikiups. (Wikipedia)

Left, from Francophoto; Right, engraving of Winnebago Medicine Tent.
Modern References
Backpacking Tents
Arched dome and tunnel shapes with flexed poles are now the standard for modern backpacking tents, having largely replaced tents with rigid straight poles.
Quonset Shelters
Durring World Wars I and II, metal-skinned arched tunnel shelters such as the Quonset Hut were used extensively for military shelters. This design was later adapted for use with cloth covers, and continues to be used in military and emergency-response settings.

From Alaska Structures: Alaska Small Shelter System
Agricultural Tunnels
Arched tunnels are used as low-cost greenhouses. So-called "low tunnels" cover a single row of crops, while "high tunnels" can be dozens of feet wide and hundreds of feet long. Large installations are constructed from metal, while simple DIY versions can be built with wood or PVC. Various weights of plastic sheeting are used as covers.

From I Love Gardening
Burning Man
Arched tunnels are used for shade and dust protection at Burning Man, and numerous DIY guides are available showing variations on the construction technique.
One of the most refined versions of this is the "Zook Arch", a large tunnel using PVC poles, poly webbing, and vinyl tarps. The construction page includes some very helpful techniques we adopted in our design.

From A Successful Shade Arch Design
There are numerous variations, from the simple "Monkey Hut" design up to large, multi-bay designs connected by domes.

Left, Lovemonkey's MonkeyHut; Right, from Clif's Shade Structure
The SCA
I've found images online of three other tents of this style in use in the SCA.
Seigneur Guy du petit Egypte' and Madame Putsha la Chiromancienne assembled a very helpful page that describes the construction of their Roma-style bender, which uses PVC poles and a canvas skin.

Photos curtesy of Geof Franklin, from How We Made The Bender Tent
There's also this photo from an SCA event of a similar arched tent with a pretty roof, although I don't know how or by whom it was built:
From Deborah and Steve's Plausibly Medieval Pavilions
Cairistiona Bhan and Seumas, Last of Gyver, built a lovely Celtic bender using hickory poles and canvas. I didn't encounter these images until after ours was built, but theirs is truly inspirational.
Construction Supplies
The cost for the materials was a bit over $300; $200 for the canvas (at $5/yard), $60 for the PVC poles ($3.50 each), $24 for the rebar ($1.50 each), $19 for 100 yards of webbing, $9 for YKK triglide slides, and $24 for a grommet and punch kit.
Poles
16x 10′ 1″ schedule 40 PVC Pipe
1x 10′ 1.25″ schedule 40 PVC Pipe; double-check to ensure that this fits over the outside of the 1″ pipe with a little wiggle room.
10x sheets of sandpaper, assorted grits 60-120
A pair of thin disposable plastic gloves, like those used for hair dyes, first aid, or dishwashing.
A pint of wood stain, wipe-on, medium color
Canvas
400+ square feet of canvas, 10 oz duck; we used 35 yards of 60″ width.
Cotton thread
Plus additional fabric for door curtains
Rigging
15x 2′ lengths of 3/8″ rebar
100 yards of 1″ poly webbing
20x plastic slides for 1″ webbing
20x 1/2″ metal grommets (with punch and installation die) — or could stitch on ties
Tools
A saw, to cut the PVC; I used a small hand-held power jigsaw, or you could use a manual hacksaw.
A power drill and 1/4″ drill bit.
A sewing machine, to seam canvas together; this needs to be a sturdy unit to handle the heavy fabric, but doesn't need to have any fancy features or attachments.
A tape measure.
A heavy hammer, to drive rebar and install grommets; I used a 3LB hammer.
A pair of scissors.
A lighter, to melt the ends of the poly webbing to prevent it from unravelling.
A platform to stand on, such as a stepladder or crate; we used a Yeti cooler.
Preparation
We spent much of two days preparing the materials before heading to the camp site.
Poles
We used a technique found on PVCWorkshop.com to apply a wood-grain pattern to the pipes.
First, sand the pipes. Tear sheets of sandpaper into halves, or another workable size. Wrap around the pipe. Sand pipes along their lengths, starting with the rougher grit sandpaper and progressing to the finer grit. Sand until the shiny surface has been stripped off and the size and branding mill marks printed on the pipe are no longer visible. Brush off any lingering dust.
Staining the pipes is messy, so find an outdoor location, or cover a large work area with plastic drop cloths. Put on the plastic gloves. You can dip your gloved fingers directly into the stain, or optionally use a paper towel folded into a wad, or a disposable sponge, or an old rag to dip into the stain. Wipe stain onto the pipe, roughly covering the full length, then streak it by wrapping your gloved fingers around the pipe and pulling them lengthwise along it. Creases in the gloves, combined with the scratches left by the sandpaper, will create a wood-grain appearance. Experiment with different hand positions and motions until you get a look you like. Overlapping swipes and small twists of your hand can combine to suggest the burl of unevenly-growing wood. Minor variations will make some pipes darker or lighter than the others. Lean stained poles against a wall or fence to dry for several hours or overnight.
Couplers
Use a saw to cut the one length of 1.25″ pipe into pieces: six pieces 1′ long, plus four pieces 7″ long. Optionally, wipe a bit of stain on the newly-exposed cut ends; or you could try cutting these first and then stain each piece separately.
Drill a hole all the way through each of the cut pieces using a 1/4″ drill bit. The hole should be in the middle of the 1′ lengths, and 1″ away from one end of the 7″ lengths. Clear any detritus out of the holes.
Cut ten pieces of webbing 1′ long, and seal the ends by passing them back and forth in the flame of the lighter for about ten seconds or so until the threads shrivel up. When they've cooled, twist them and feed them through the holes, then bring the ends around and tie them together. This bit of webbing will keep the pole ends from sliding through the coupler, and will allow you to tie other straps securely to the coupler.
(Update: I rebuilt some of these couplers in 2016 and found that paracord works just as well here, and allows use of a slightly smaller drill bit.)
Canvas
Cut the canvas into appropriate lengths. The main span of the tent will be 20′, but you will want some extra to account for shrinkage after it gets wet, and the remainder can be folded under to act as a mudflap and compensate for any unevenness in the ground. We used 24′, which was more than needed because our canvas didn't shrink as much as we feared; 22′ might be sufficient. You will also need two shorter pieces to hang along the curved back end. We used 14′ lengths for these, but 13′ should be sufficient.
Cut two pieces of the long length, and four of the shorter length, and then join pairs of pieces together with a flat (lap?) felled seam. Feeding 16+ pounds of canvas through a sewing machine can be awkward. Having a second person available to help position the fabric makes it a bit easier. It helps if you place the sewing machine on or next to a large table so you can slide the fabric along. If the weight of the canvas pulls the fabric off of the table, you may want to place a weight on it so that it doesn't slide. We used binder clips instead of pins to hold the pieces of fabric together.
Install grommets along the outside edges of each joined piece of canvas.
Setup
Select a mostly-flat site large enough for the tent's 12′ x 16′ footprint.
Stakes
Begin setup by pounding in a rebar stake where each of the poles should go.
Use a heavy hammer to drive in the rebar stakes. Consider protecting yourself with heavy leather gloves and safety goggles if available. Caution people in the area about the the rebar stakes, which often have sharp jagged edges; until they have the poles slid over them you'll want to be very careful not to cut your shin open on one of them.
The rebar should be driven vertically, and pounded more than half way into the ground. You want the stakes to be positioned accurately so , but if you hit a rock in one spot you can pull the stake back out, shift it over an inch or so and try again.
Measure out a 10′ straight line that will form one side of the tent, and place rebar stakes at the 0′, 2.5′, 5′, 7.5′, and 10′ marks.
Measure out a second 10′ straight line, parallel with the first and 12′ away from it. Confirm the lines are parallel by measuring both diagonals, which should be 15′ 7.5″. Pound in five stakes at the 0′, 2.5′, 5′, 7.5′, and 10′ marks.
Lastly, place the five stakes in the back curve. Locate the center point of the back 12′ line, then pound in five stakes each 6′ away from there, evenly spaced about 3′ 1.5″ away from each other.
Run a line of webbing around the sides and back of the tent, tieing it to each stake, leaving an extra foot of slack between each pair of stakes. (Later, you can use this sawline to anchor additional webbing thrown over the top of the tent.)
This diagram illustrates the positions of the stakes (black circles) and where the posts will be placed (brown lines):
Poles
Use a coupler piece to connect two poles by sliding it over their ends. Slide one one end of it down over a rebar stake, then bend the other end down and slide it over the matching stake on the other side. Repeat for all five ribs.
Form the spine by joining two poles in the same way. Position the spine underneath the ribs, then raise it up and slide the far end on to the center back stake.
Drag something into the middle of the tent that you can use as a platform to reach the ribs overhead.
Use short 18″-24″ lengths of webbing to tie the spine to the ribs where they cross. Make sure that the ribs are evenly spaced along the top of the spine, and are tied tightly so they will not slide around.
Set up the last four ribs around the back end. Slide a short coupler piece over one end of a pole, and slide the other end of the post onto one of the remaining stakes. Bend the pole down and tuck the short coupler piece under the center of the last rib. Use short lengths of webbing to tie them to the crossing point.

Webbing
Use a few lines of webbing passing through the ribs at an angle to make the structure more rigid.
Carefully slide posts part way up the rebar stake to allow you to loop the webbing around the bottom of the stake, then slide the post back down to trap the webbing below it.
Tie a webbing line at the foot of the fourth rib and angle it up and forwards, looping it around ribs three and two before reaching the center of the first rib where it crosses the spine, then angling back down to the foot of the fourth rib on the other side. Draw the webbing tight and tie it off.
Repeat with another webbing line at the same angle, placed two ribs further back.

Add a webbing line that angles back from the foot of the fifth rib, up and around the back curve, then back down to the foot of the fifth rib on the other side.
Canvas
Place the two long piece of canvas outside the tent along one straight wall, and the two shorter pieces of canvas along the back curve.
Stand on the platform and hoist one of the shorter pieces up and over the top of the ribs and spine. Adjust the canvas so that the edge reaches the ground along one side of the back curve. Tie webbing straps to the the grommets and stretch them down over the ribs to anchor the other end around the stake under one of the pole ends.
Then hoist up the second shorter piece of canvas and position it in the same way.
Finally, stretch the large piece of canvas over the ribs in the main body of the tent.
Adjust the position of the three pieces of canvas to minimize gaps around the edge. Smooth out the canvas, adding some folds or pleats where needed and ensuring that those pleats will not channel water into the tent.

Use webbing to fasten the canvas into place and draw it taut.

Hang curtains across the front, and move your possessions into the tent.

Storage
Taking down the tent is straightforward.
Loosen the straps that hold the canvas in place.
Take down the canvas and fold it for storage. Make sure the canvas is dry before storing it or it may mildew or rot and be unusable next year.
Remove the webbing straps that hold the ribs and spine together.
Remove the poles by sliding them up off of the rebar stakes. (Remember that they're under tension, so be careful that they don't spring up unexpectedly and hit you in the face!) Take down the rear ribs, then the spine and lastly the side ribs, separating the poles and couplers.
Lastly, remove the stakes. (Remember that they're sharp, so warn people to avoid them until they're out of the ground.) Loosen the stakes by hitting them a couple of times with the hammer from each side, then use a heavy leather glove to pull them out.
Evaluation
We were very happy with the design of the tent frame. The tent doesn't require a central pole inside the tent area, nor does it need any guy lines outside of it. It covers about 175 square feet of space, most of which is tall enough to stand in.
We used untreated canvas and were pleased with its coverage in the several heavy rainstorms we experienced. As is typical with brand-new canvas tents, there were minor drips during the first hour of rain, but those ended as the fabric swelled and shrunk, and did not reoccur in subsequent downpours. (If you had a yard big enough to set up the tent at home, you could pre-season the tent by soaking it with a hose and letting it dry, to avoid this issue on your first rainstorm in the field.)
We look forward to using this tent again next year.
Postscript, 2015
The main change we made this year was to add another piece of canvas along the back of the curve to allow for a greater overlap — the previous setup included just enough canvas for the edges to meet if they were held just exactly right, but inevitably they would end up gapping by a little bit. Adding another piece of canvas in the back helped to solve this problem.
Also, we ended up not using the tensioning straps over the top of the tent or the sawline strap (running around the bottom edge of the tent) — this is a key part of the Burning Man "Zook Arch" design, but they're using lighter material than our heavy canvas, and they have to deal with much higher winds than we have at Pennsic. We're in a very sheltered location, and didn't have any problems with the canvas flapping around.
We replaced the curtains across the front opening with a double layer of mosquito netting — admittedly not period, but it provided enough privacy for our location while allowing for some air circulation.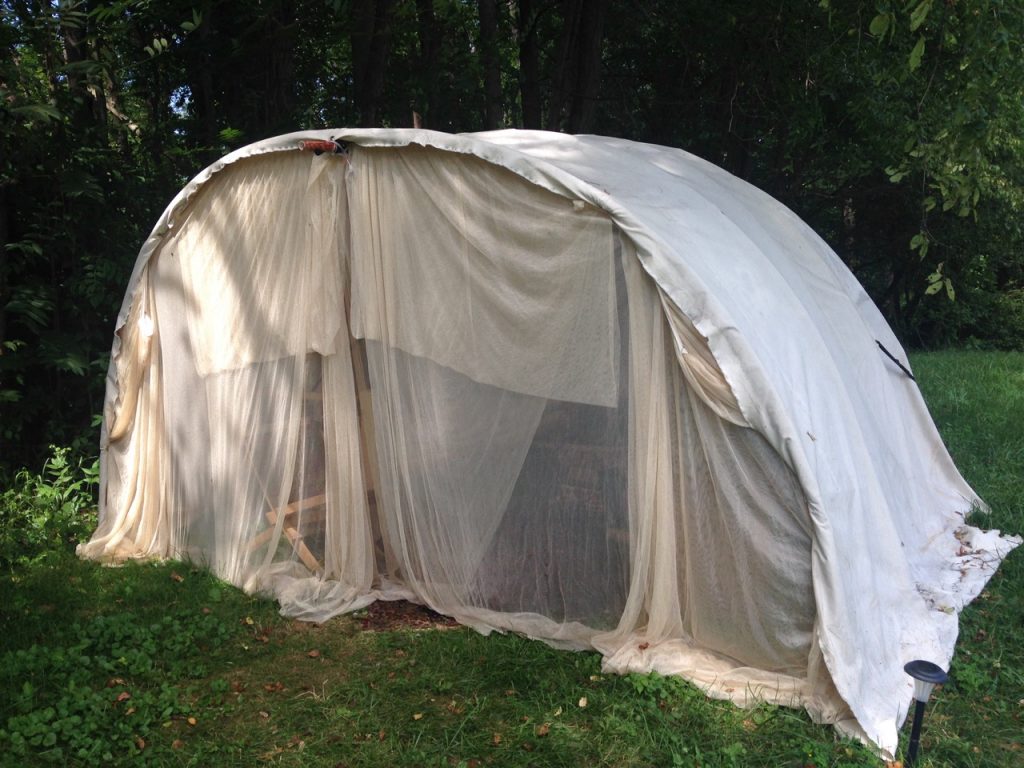 Here's another photo showing the interior: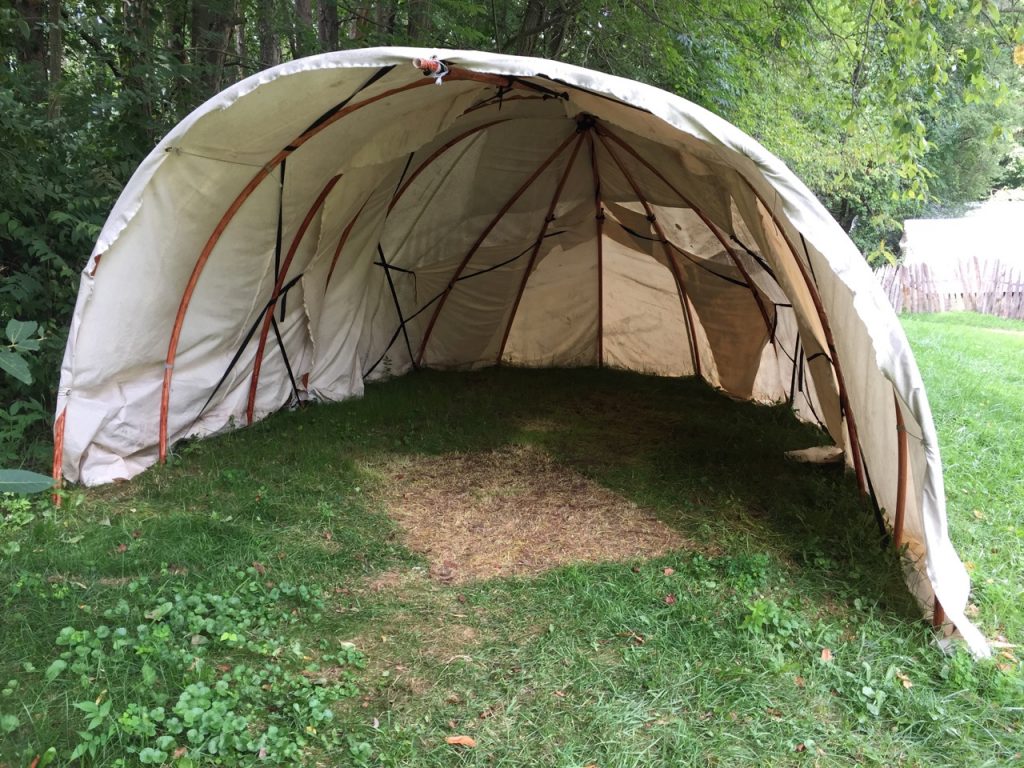 Postscript, 2017
This year we moved out of our former site in Dagan's Dell and down to a camp on Chandler's Road near Via Chingis. With the additional wind exposure in this location we found that we did need to throw a couple of tensioning straps over the top to keep the sides of the canvas from blowing upwards in the wind.
We also found that the mosquito netting on our front door was an insufficient barrier to stop rain from blowing in and afternoon sun from angling into the back of the tent, neither of which had been a problem in our former location. We hung some additional fabric across the doorway and we'll aim to rig up a more-secure set of door flaps for next year.
Other than that, the tent has continued to hold up fairly well through its fourth year. There was one area of the canvas which dripped during the worst rainstorms that'll need to have a little water sealant applied or a second layer of canvas thrown over it.
A Possible Variation
I've been considering building another one of these tents for another group in our household, and figured I would make the cylindrical section a little longer and omit the rounded end.
You could then choose to either have doors on both ends, or seal off one end with a solid piece of canvas and have an entrance only on the other end.
This would simplify construction and setup — getting the rounded section laid out correctly, binding the free ends of the poles at the top, and adjusting the canvas to cover the rounded end all definitely require a disproportionate amount of work, and because the headroom in the curved end is reduced, it adds less usable space than the floor plan might suggest.
The rounded end provides some lateral stability, so that the arches don't wobble towards one end and then the other, but it turns out that the diagonal webbing lines also effectively address that issue.
By "diagonal webbing lines" I mean the straps (or ropes) that angle from the foot of one arch over to the top of another and then back down on the other side. In our construction shown above, these only angle in one direction, because the arches of the rounded end resist movement in the other direction.
If you omit the rounded end, you'd want to send at least one of those diagonal straps in both directions, and maybe a pair in each direction, along the lines shown below.
Another Interpretation
At Pennsic XLVI (2017) I was pleased to note that one of our neighbors in an adjacent camp, Blood Moon Clan, had constructed a bender of their own.
Jason Pedicord and his wife Lenore used the notes on this site as a starting point in designing their own bender, with great results. They worked with a local Panther distributor to put together a custom canvas stitching order for a set of three overlapping panels and two end flaps with integrated ties along their length that simplify the process of attaching the canvas to the poles.
They kindly gave me a tour and granted permission to share a couple of photos of their shelter: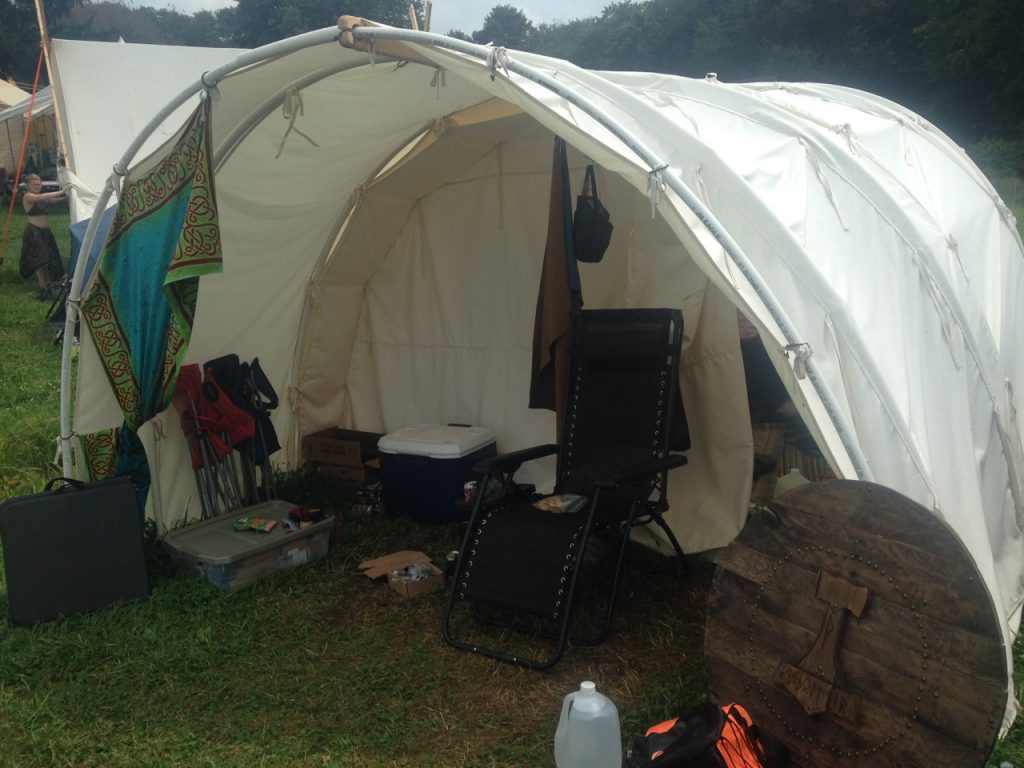 They use a Romani-style ridge pole, which has also proved useful during setup as it allows them to quickly mark the locations for the rib poles on each side without tediously measuring the distances between them. The integrated ties are a particularly nice touch, as they allow the canvas panels to be fastened to the rib poles without additional webbing lines, as well as tied to each other, and can support items such as lanterns and clothing rods being hung from the inside.
Postscript, 2019
We camped in the bender for the sixth year this summer.
As described above in "a possible variation," this year we set up the frame in a straight semicylinder, without the arched back end. The final dimensions were 12′ wide and 15′ long (with seven ribs spaced 2.5′ apart). This gave us a bit more usable full-height space, and it was slightly easier to put it up and get the canvas draped. While the frame was slightly wobbly when the ribs first went up, a pair of diagonal straps from each end of the spine to the base of the center rib successfully stabilized it, and once the canvas was on and pulled tight it felt quite solid.
It's mostly holding up well, although the original canvas is no longer as watertight as it was to begin with. We had some additional canvas with us so I just threw another piece over the top and that solved the problem.
Our neighbors in Blood Moon Clan were back in their bender as well, and had extended theirs significantly, by adding more ribs and overlapping more canvas to nearly double the length.
Postscript, 2022
For this summer's Pennsic, we modified the ridge-line, replacing the couplers with 45-degree angle joints. I was nervous about how well these would hold up under tension, but after a bit of wiggling to get them seated, they held perfectly. The additional bend here raised the peak of the roof, and increased the slope angle, helping to shed rain.
We also deployed one more pair of ribs, increasing the total length to 17.5 feet, which provided some additional storage space; perhaps next year we'll go up to 20.
Unfortunately, the generic canvas we purchased eight years ago is really showing its age, and during a particularly heavy rainstorm definitely leaked in multiple locations. We salvaged the situation by throwing a cheap poly tarp over the top, but I'd love to get back to the pre-modern look of the canvas, so we're discussing commissioning a proper Sunforger cover for next year.
Postscript, 2023
This year's tent was nearly 20 feet long — totally a sufficient amount of space for the two of us.
We replaced the canvas with a new single-piece 20×20 tarp, which worked great and basically repelled all water even in the worst rainstorms. The new tarp is a golden color, which blocks more light and leaves the inside space a bit darker — but it's lovely outside, so I'm content.
I also stumbled on another image of nineteenth-century benders in Britain:
Get In Touch
Please feel free to contact me or comment below if you have any feedback or questions about this style of tent. I look forward to seeing more of these tents on the field, and would be glad to chat with you if you're interested in building one of your own.